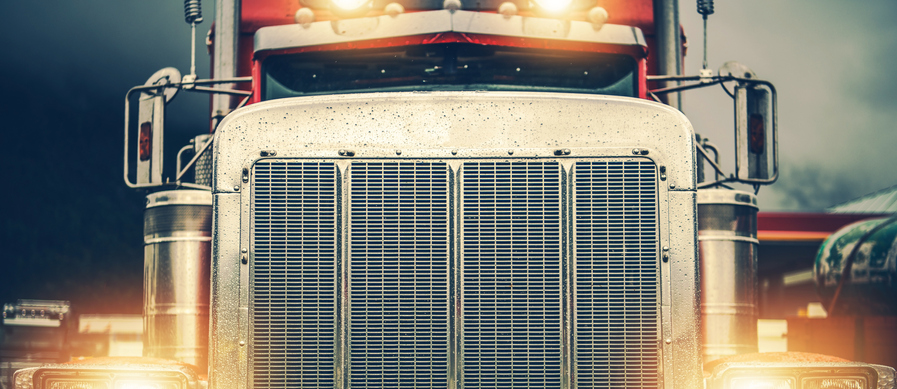 WHAT ARE COMMERCIAL TRUCKING ACCIDENTS?
This question may seem straight forward. That is, until you realize that there are a lot of regulations which apply to commercial trucks.  The regulations cover 2 different categories of trucks. Trucks over 10,001 pounds and trucks over 26,001 lbs. For this article, we are exploring only those trucks over 26,001 lbs.  Make no mistake though, an experienced trucking accident lawyer is a valuable asset if you or a loved one have been seriously injured or killed in a trucking accident.
WHY TRUCKING ACCIDENTS ARE DIFFERENT FROM CAR ACCIDENTS
Far too often, injury attorneys treat trucking accidents like car accidents. They should not. One can easily understand the force from a 60,000 pound truck striking a family vehicle are significantly higher than the force from a 7,500 pound pickup truck or 3,500 sedan traveling the same speed. This difference in force often results in much more serious injuries, including death, to otherwise healthy occupants.
As a result of this enhanced danger from large commercial trucks, also known as "big rigs" or "18-wheelers," an entire set of regulations exists for the commercial trucking industry. These regulations cover everything from No Texting While Driving, to Pre-Travel Inspection, to even hours of service. These are only a sample of the vast regulations in place for commercial trucking drivers.
Trucking accident lawyers know that car accidents and trucking accidents are not the same. Beyond the federal regulations that apply to commercial trucking, drivers must also undergo extensive training. 18-wheelers simply do not operate the same as family-size passenger vehicles as they are much harder to maneuver. For this reason, some operations that can be done in family passenger vehicles are prohibited by 18-wheel operators.  
Operating an 18-wheeler on a roadway with family vehicles poses various potential risks for the truck driver.  The driver's training should have covered all of them. One example is stopping distance, which the distance it takes to slow such a large vehicle. As a result, 18-wheel operators are trained to use 6 second following distance for speeds below 40 mph and 8 seconds following distance for speeds above 40 mph.  
WHY YOU NEED A TRUCKING ACCIDENT ATTORNEY IMMEDIATELY
Trucking accidents can often result in serious injury and death.  This can expose various companies to responsibility to having to pay large damages.  However, this is only the case if the attorney can learn the correct information.  
Investigation
Following a trucking crash, a "rapid response team" may arrive while the vehicles are still on the roadway.  This team often consists of an attorney for the trucking company who is directing the efforts of the on-scene investigation.  This means after a trucking accident, you are already behind. While you wait to obtain counsel, it is very possible that information or data is being "lost."  
In addition to losing information or data, oftentimes locating all available insurance information is extremely difficult.  Trucking companies often weave an elaborate system of so-called brokers to hide insurance information or to attempt to reduce responsibility.
From an investigative standpoint, the longer someone waits, the more likely the information is to be "lost."  The loss of information, or the failure to know what one is looking for and therefore does not find it, can be detrimental to a case.
Costs
The costs of handling a trucking accident case can be expensive and may require multiple experts.  These experts may include accident reconstructionists, human factors experts, life care planners, and/or medical and industry experts.  Many times, typical injury attorneys do not want to spend the amount of money necessary to obtain the information required. Experts may not be required for every case.  The case should be analyzed from the outset as to whether they are necessary.  Failing to do this can hurt your case.
CONCLUSION
Victims of trucking accidents must move quickly and hire a truck accident attorney.  The longer you wait, the harder your case may become. Attorney Justin H. Presser has handled various commercial trucking cases which resulting in catastrophic damages or loss of life.  If you or a loved one has been injured or loss their life as a result of a trucking accident, call Presser Law, P.A. today for a free consultation of the case.
GET YOUR FREE TRUCKING ACCIDENT CASE REVIEW TODAY
If you have been injured in a trucking accident, contact Presser Law for a free case review with an attorney to determine your legal rights.  Put my experience to work for you. For over 10 years, I have represented injury victims throughout Central Florida in their times of need and I would be honored to help you as well.
______________________
Presser Law, P.A. was founded on the idea that injury victims deserve aggressive and straight forward representation to help them through some of their most difficult times. "Fighting for Justice.  Fighting for You." is more than a motto.  It is our promise and reminder to our client's that we will be with them, fighting to make sure they receive the compensation they deserve.